In response to the COVID-19 pandemic, we are introducing the option to provide Virtual Visits.
Virtual Visits are like a routine office visit, with the exception that you do not come into the office to see us. We do this via on-line video conferencing or telephone calls.
In order to minimize human-to-human contact (also called Social Distancing) we encourage all patients to consider booking a Virtual Visit.
1. How do I schedule a virtual visit?   You schedule this like you normally will schedule your regular office visits. This can be done by phoning our receptionist or doing a web booking through your Patient Portal. For all appointments scheduled through the Patient Portal, we will contact you and ask if you will be willing to change your appointment to a virtual visit. When using the Patient Portal booking system, please choose Virtual Visit as your appointment reason. If you do not have access to your Patient Portal, or can not remember your log-in details, we can still schedule a Virtual Visit. Just give us a call.
2. What do I need to connect to a Video Virtual Visit?   
All you need is a computer/laptop with a web-camera, speakers and a microphone. Or you can use your smart phone, iPad or other tablet device. And we need your 
current valid email address.
Approximately 48 hours before your scheduled virtual visit, you will receive an email with a unique link.
Before the appointment, click on the Test before appointment link in the email and ensure your video and audio are working.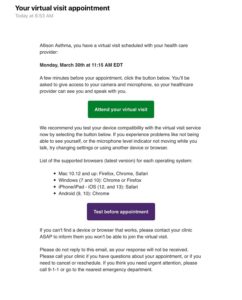 Supported operating systems and browsers:
– Mac OS X 10,12 and later – latest version of Google Chrome, Firefox or Safari.
– Windows 7 or Windows 10 – latest version of Google Chrome, Firefox, or the new Edge. (Internet Explorer is not supported).
– iPhone/iPad with iOS 11 or later – latest version of Safari.
– Android 9 and later – latest version of Google Chrome.
Make sure you do not have background noise (radio or other noisy people) in the room. Remember this is like any other office visit. We want to keep our conversation private and you do not always want your friend or teenager to hear your conversation with your doctor.
You also need a good internet connection. If you have a poor Wifi signal then it will severely effect your quality of the video and audio.
PLEASE make sure you are located in a PRIVATE and secure environment when conducting this visit. It is not appropriate to try and conduct a doctor's visit, while driving, walking around in the grocery store or while visiting friends. Remember we often discuss private matters and just like in our office, you certainly do not want the other patients/public to hear about your private health matters.
3. Steps to connect to your Video Virtual Appointment:
Close any other applications on your computer or mobile device that are using the camera or microphone.
Approximately 5 minutes prior to your scheduled appointment: Open the email with the link to connect to your Virtual Appointment and click on the link or the button in the email to Attend your virtual visit.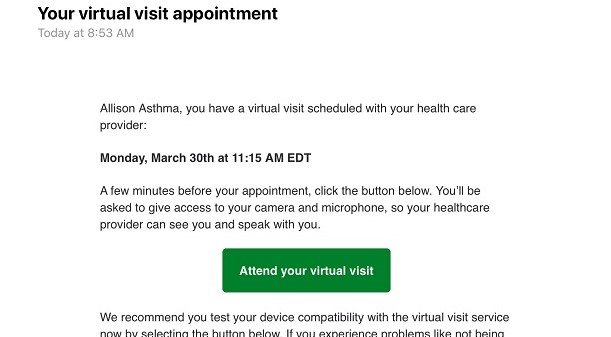 The TELUS EMR Virtual Visit window opens in your web browser. If this is your first time attending a virtual visit, you may be prompted to grant access to your camera and microphone. Click Allow.
Note: If you have blocked access to your camera and/or microphone for your browser, you will not be able to join the visit. You must have both video and audio access to attend the visit. If you cannot attend the virtual visit, contact our office.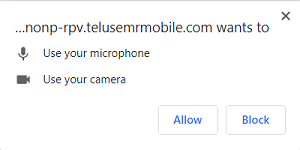 You should see yourself on the screen, and when you speak, you should see solid bars appear in the audio panel along the left side. Change the selected camera and microphone, if necessary.
Click Join virtual visit and wait for us to join the call. Remember, just like in our office, we may run behind schedule and it may take a while before we can connect with you. Please wait.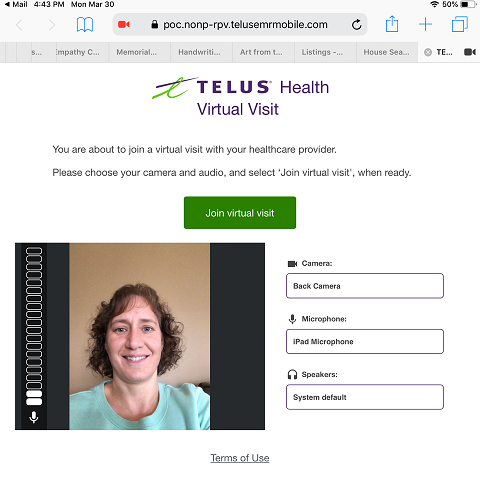 Once we join the call, you should be able to see us and we can start to chat.
Once your visit is done, we will end the call and then you may close your browser.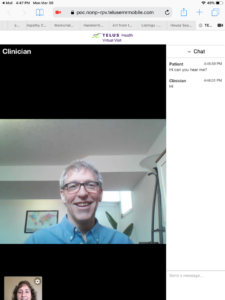 4. I do not have Internet, or have no idea how to do this video conferencing thing, what do I do?
This is a new way of doing things for us as well and will seem very intimidating initially. But do not fear, if we are not able to connect via video conferencing, then we will try to do this via old fashioned telephone call.
5. Can all type of visits be done this way?
No, by nature of practicing medicine, some visits do require that we need to do a physical examination. The following types of visits can not be done via Virtual Visit: Prenatal visit (we need to listen to your baby's heart beat) , Well Baby visits (we need to examine the baby and do the weight), Injections (for obvious reasons), Driver's Medicals (often needs a physical examination), or any other type of visit that requires a physical examination (PAP smears; sore joints; etc.) If during your Telehealth visit, we determine that there is something that needs to be physically examined, then we may ask you to come into the office for another visit.
6. Does it cost me anything to do a Virtual Visit?
No. The BC Government provided us with special MSP billing abilities to provide Telehealth visits during this COVID-19 crisis. 
7. Will this Telehealth service be available from now on forever?
We are doing this in response to the COVID-19 crisis. Currently we cannot guarantee that we will be able to continue to provide this Telehealth service. However, some of the best advances in science and medicine happened during times of crisis. Who knows!
8. Can any person access the Virtual Visit services of The Lighthouse Medical Clinic?
Currently you have to be a registered patient of Drs. Coetzer and Barnard in order to schedule an appointment. Currently we are not able to accept any new patients to our family practice.
9. What can I do to make the Telehealth visit more successful?
There are many things you can do to make a Virtual Visit more successful:
If you are on blood pressure medications, try to do your blood pressure at home prior to your visit.
If we normally will weigh you in the office, do your own weight at home.
Make sure you connect to your Virtual Visit link approximately 5 minutes prior to your appointment.
If you prefer to do a telephone call, make sure you are near your phone.
Remember it is never a good idea to drive while you speak on the phone.
Make sure you are in a quiet, private and secure space when talking with us.
10. How will I get my prescription or lab-requisition?
We will fax your prescription to your pharmacy. For lab-requisitions, we can either email or fax you the requisition. Or you can come pick up the requisition from our office. However, due to the COVID-19 pandemic, we are trying to minimize the amounts of times that patients need to go to the laboratory. We will only request the most essential tests.